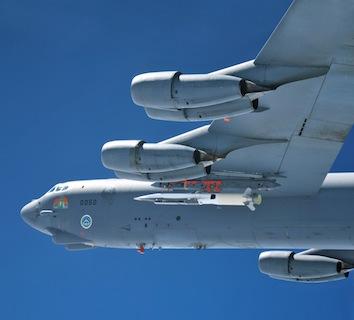 As the Pentagon reportedly mulled in the past month a potential Tomahawk strike on Syria involving hundreds of targets, Raytheon Co. quietly won a $1 million contract to develop technologies for a potential new cruise missile -- one that could streak 300 miles in less than five minutes.
The Defense Advanced Research Projects Agency awarded the initial funding to Waltham, Mass.-based Raytheon under the High Speed Strike Weapon program, with the U.S. Air Force envisioning new cruise missiles powered by scramjets.
The term scramjet is derived from the phrase "supersonic combustion ramjet"; scramjets are designed to achieve hypersonic speed by sucking air and compressing it into a combustion chamber even as those particles maintain their supersonic speed from entry to exit in the form of exhaust. In an air-breathing ramjet, by contrast, air goes through the combustion process below the speed of sound — a less-efficient design that slows the vehicle.
A scramjet cruise missile would be no mean feat. The weapon would require integrating multiple breakthrough technologies covering guidance; propulsion; high-temperature materials; compact booster technologies; and even new manufacturing techniques.
Tomahawk cruise missiles are made by the Tucson, Ariz.-based Raytheon Missile Systems division of Raytheon. The Tomahawk was originally developed by General Dynamics in the 1970s and passed to Raytheon in late 1997 via its $9.8 billion acquisition of Hughes Aircraft.
The Tomahawk has been a reliable warhorse to this day; under the most recent acquisition program that began fielding missiles in 2004, the U.S. Navy expects to spend $7.1 billion for nearly 5,000 Tomahawk missiles, according to December 2012 figures published by the Department of Defense.
In the second quarter, Raytheon Missile Systems sales totaled $1.7 billion, up 7 percent from a year earlier in part due to increased cruise missile production — Tomahawk bookings to the U.S. Navy and international customers totaled nearly $350 million in the second quarter.
Any hypersonic cruise missile program could represent a new blockbuster for Raytheon, as the U.S. military explores an ever-widening range of options to exploit the possibilities of unmanned systems to execute surprise strikes with minimal risk to soldiers, sailors and airmen. While Raytheon has hyped other major projects this year, including missile-defense systems and the Next Generation Jammer award under protest by BAE Systems, it has been mum on the hypersonic cruise missile being contemplated by the Pentagon.
Raytheon did not make a manager available for an interview before deadline to discuss the hypersonic cruise missile program and its potential for the company.
"Back in '11, we saw that things were going to start winding down in Iraq and Afghanistan someday and when that happens, our forward presence changes," said Raytheon CEO Bill Swanson in a July conference call. "When your forward presence changes, now you have to think about the world differently. How do you get in, do what you have to do and get out -- without anyone getting hurt?"
A scramjet would "get in" far faster while packing improved electronics to help it survive any disruption to the Global Positioning System used today by Tomahawks, also finding their way to their targets via inertial guidance and terrain-mapping technology.
Mach 5
Boeing Co. has already achieved hypersonic flight with a missile-like test vehicle called the X-51A WaveRider, which earlier this year flew at Mach 5 for five minutes powered by a scramjet from Rocketdyne (until June owned by the Pratt & Whitney division of United Technologies Corp., which sold it to Aerojet parent GenCorp Inc.). Boeing itself has experience in Tomahawk production via McDonnell Douglas, which it acquired in 1997 months before the Raytheon-Hughes deal. Boeing also inherited from McDonnell Douglas the Harpoon, an anti-ship missile that like the Tomahawk skims at low altitude to avoid detection.
The Air Force is prepared to spend $260 million on a hypersonic cruise missile design program through the 2017 fiscal year. The first phase of the program is expected to take 16 months, with total development possibly extending more than six years -- and that just for a demonstrator missile that would serve as the blueprint for any subsequent version to enter the U.S. arsenal.
"Speed can contribute to survivability of Air Force systems and allow us to engage time-sensitive targets even in the anti-access, area-denial environments we increasingly expect to encounter in the future," said David Walker, Air Force deputy assistant secretary of science, technology and engineering, in April testimony to the House Armed Services Committee. "The flight demonstration will be the first tactically relevant demonstration of Mach 5-plus, air-breathing missile technology."